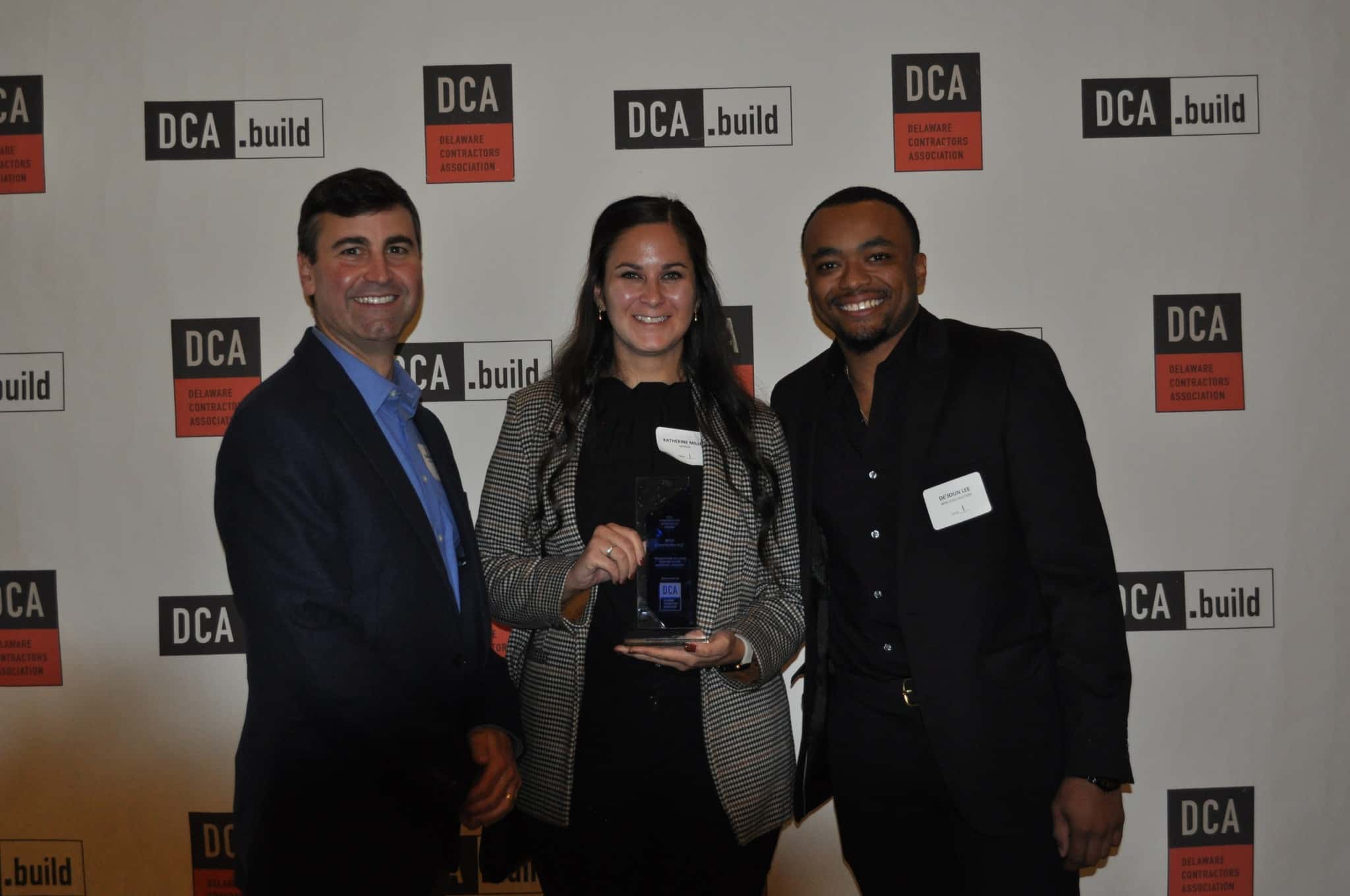 December 6, 2022 9:19 pm
BPGS Construction received two Construction Excellence Awards from the Delaware Contractors Association (DCA) at the 52nd Annual Meeting held on October 20th at the Chase Center in Wilmington. The awards recognized the Brandywine Ground Floor Amenity Space and Bardea Steak! This is the second award for both of these projects this year, which also received Excellence in Construction Awards from ABC Delaware.
Brandywine Building Ground Floor Amenity Space – Hospitality Construction Excellence Award Under $5 Million

The 6,000 SF project is the most recent renovation of the ground floor common area in the Brandywine Building. The space includes a 12' videowall surrounded by a preserved plant wall, tiered seating area, private work booths, three (3) conference rooms and a grab-and-go marketplace. Alongside the usable amenities, the space provides an open and modern look for tenants to enjoy with 20' windows, high exposed dark ceilings, wood slat featured ceilings, poured terrazzo flooring and several other design features that compliment the elegance of the building.
BPGS Team – Ryan Givler, De'Joun Lee, Brendan Callahan

Bardea Steak – Excellence in Craftmanship Award 

The Bardea Steak project is the redevelopment of an existing commercial property to include a 4,195 SF dining room, bar, and kitchen fit-out, a 1,150 SF addition for the bathroom and four seasons dining room, exterior seating, and a 290 SF addition for kitchen, walk-in freezer and refrigerator along with dry storage areas.
BPGS Team – Drago Vasko, Andrew Rombach, John Hughes, Monica Rizzo
Congratulations to the Bardea Steak and Brandywine Amenity teams on this wonderful achievement!