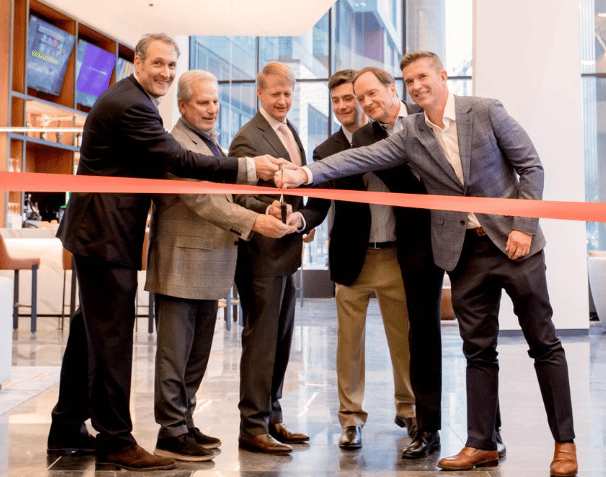 February 9, 2023 3:33 pm
Washington Marriott Capitol Hill debuted January 11, with 235 guest rooms and 18,000 square feet of meeting and event space in between Washington DC's iconic Capitol Hill and emerging NoMa neighborhoods. Developed by The Buccini/Pollin Group and Perseus TDC, and managed by PM Hotel Group, this is the first franchised Marriott property inside Washington's Capital Beltway.
Located within walking distance of the U.S. Capitol, Union Station and the Union Market neighborhood, the hotel is part of the newly developed NoMa Center, which has 40,000 square feet of new retail and restaurant development.
Upon arrival, guests enter sophisticated public areas designed by award-winning, local Washington, DC-based designer, Darryl Carter. Society Commons, a social hub from day to
night, features an intimate bar and a full-service restaurant. Guest rooms provide workstations with high-speed internet access, as well a luxurious linens and modern amenities. There is also an expansive 24-hour state-of-the-art fitness center so guests can keep up their fitness routines while away from home. An oasis in the sky, Yara is the hotel's rooftop bar and restaurant that includes a chef-driven menu and lively lounge that celebrate the cuisine and spirit of Latin cultures.
The hotel's design seeks to honor the past by capturing a spirit that is focused, determined, and efficient using crisp and streamlined architectural and décor elements that are intentional and purposeful. The materials are polished and refined, with hints of strong metals and warm woods. The style embraces the future by combining these metals and woods in fearless applications, using contemporary forms and angular shapes that are both unexpected and dramatic.
With 18,000 square feet of state-of-the-art pre-function and event space, the hotel creates connections and offers spaces that can be adapted to varied sizes and formats. The ballroom delivers uninterrupted sight lines and features 15-foot ceilings and leading-edge lighting. Designed to creatively accommodate today's guest needs, the space is expansive enough to host 280, while customizable for intimate events. In addition to the innovative indoor meeting space, the property also boasts a stunning courtyard that delivers more than 5,000 square feet of extraordinary special event space with the nation's skyline as a backdrop.
For more information about Washington Marriott Capitol Hill and to book reservations, visit www.Marriott.com/wasnn or call (202) 972-9800.