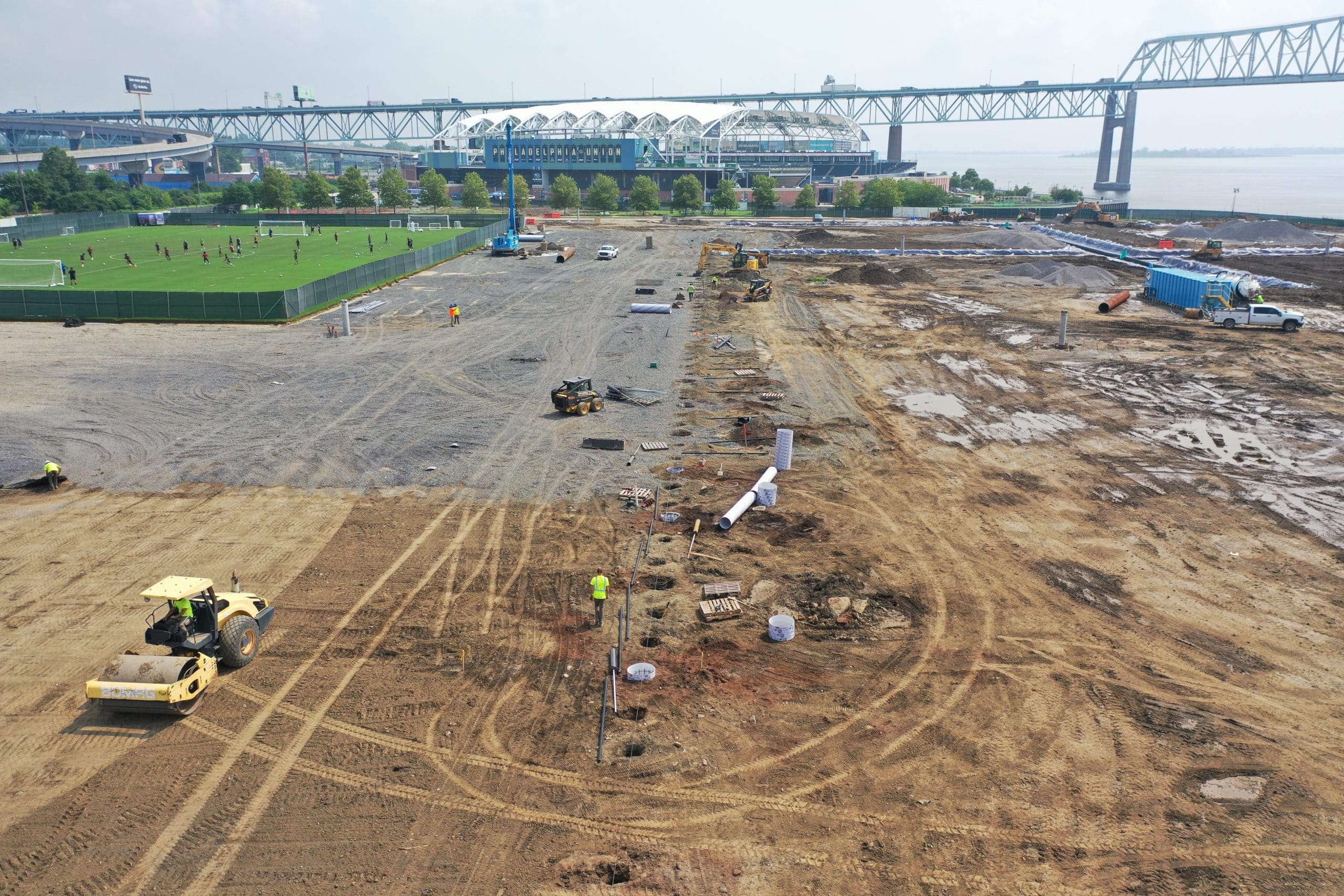 August 9, 2023 8:52 pm
At BPGS Construction, continuous learning is a crucial part of the company culture. BPGS is dedicated to empowering associates with knowledge to further their careers while also fostering an environment of comradery. Through the years, the team has developed strategic Build and Learn sessions in which all associates gather at a current job site for a lesson on unique aspects of the project or discussion on how an obstacle was overcome.
Last month Project Engineer De'Joun Lee discussed brownfield remediation in relation to the WSFS Bank Sportsplex in Chester, PA. The project, in partnership with The Philadelphia Union and WSFS Bank, will create 750,000 SF of world-class sports and recreation facilities. Phase I of the complex will see the completion of seven (7) outdoor multi-sports fields while Phase II will focus on the indoor facilities such a performance center, courts, space for athletic training, and a café for athletes and guests.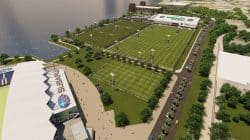 Historically, the construction site was home to several manufacturers as far back as the Industrial Revolution due to its proximity to the Delaware River. With over a century of chemical waste, the site is now considered a brownfield: a property where the expansion, redevelopment, or reuse of could be complicated by the presence or potential presence of a hazardous substance, pollutant, or contaminant.
Prior to the start of development, the site must complete a Remedial Investigation Report and Geotechnical Report. A Remedial Investigation Report is an environmental report that identifies soil, groundwater, and soil vapor classifications and provides details on how to manage contaminated soil and water. The Geotechnical Report gives an analysis of the different stratum depths of the soil and outlines soil structural bearing properties to determine foundation designs.
Due to the site's proximity to the Delaware River, a storm water management plan is top priority. The BPGS team chose a Managed Release Concept (MRC): a post-construction storm water management strategy that comprises the collection, management, and filtration of captured runoff from the contributing drainage area through a best management practice.
Another brownfield remediation technique found on site is a Bioslurp Treatment Facility. Installed in 2003, the facility utilizes a series of pipes and wells along the riverbank to capture contaminated groundwater. Once captured the oil is separated from the water and stored in barrels for weekly pickup and the water is discharged back to the city's sanitary system. Because it is an immovable structure, the retaining wall, fencing alignment, and Field 4 dimensions were all designed to accommodate the Bioslurp Treatment Facility.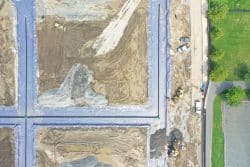 While designing the fields, it was also important to take in consideration the field properties and drainage areas for maximum playability:
Field Properties
Fall Impact: how much padding is needed beneath the carpet to cushion falls
Speed/Playability: pile height (the ball needs to be able to move fast), infill, water retention, etc.
Field Dimensions/Playing Lines
Lighting: important for glare, broadcasting, seating, etc.
Drainage
It is important to maintain consistency amongst subgrade layers across fields
Proper and uniform drainage makes it easier for maintenance and irrigation
The project is expected to be finished in Spring of 2024.
BPGS encourages our teams to employ creative solutions in order to get the job done. If this sounds like you, click here for current opportunities!