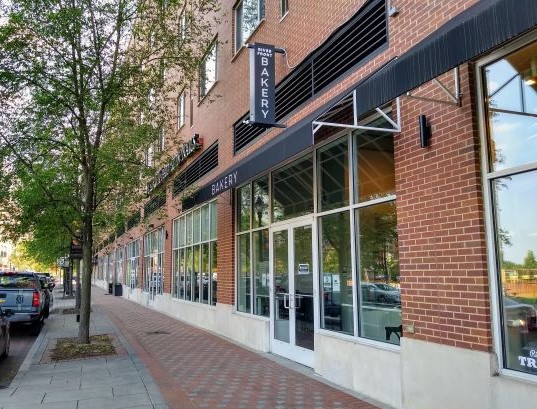 October 6, 2020 2:52 pm
Two new retail spaces have joined the Wilmington Riverfront this past summer. The Riverfront Bakery is serving up European pastries while The Juice Joint provides fresh juices, bowls, and much more. Both projects were completed during the COVID-19 pandemic, which resulted in some delays. Despite these setbacks, both places were built completely from scratch- the existing space was gray shell which meant all new plumbing, electrical, and HVAC systems had to be installed. They were ready to serve the public by mid-summer. Read on for more details about how these businesses were brought to life.
Riverfront Bakery
The construction of this 1,644 sf space French-style bakery began on February 4th, 2020. The shop includes floating quartz window counters at front windows, a bakery counter that features custom designed wood-panels with quartz counters, and a custom designed wall to feature a combination of wood-panels and glass so that patrons can have full view of the baking process. The wood-look porcelain floor tile is imported from Italy. The space is lit by large-scale modern sputnik chandeliers and a banquette seating area aligns the bakery wall.
This bakery has a European-style patrisserie and specializes in a variety of small- batch pastries made daily. The shop also features an on-staff artist, who's artwork is on display and they plan on offering to sell.
Location: 311 Justison St. Wilmington, DE 19801
Juice Joint
The Juice Joint is down the block from the bakery. The 1,704 sf shop is complete with exposed concrete flooring and an open ceiling creates a raw-industrial atmosphere that is softened by reclaimed wood floating shelfs, and greenery accents. The monochromatic coral paint scheme brightens the space. Get cozy with a friend at a distance in one of their two hanging rattan chairs- which are the focal point of the seating area. Guests place their order from a 20' curved service counter framed by white barn-light pendants.
The Juice Joint offers cold presses juices, smoothies, smoothie bowls, and much more!
Location: 323 Justison St. Wilmington, DE 19801
Check out these two new exciting additions the next time you're on the Wilmington Riverfront!