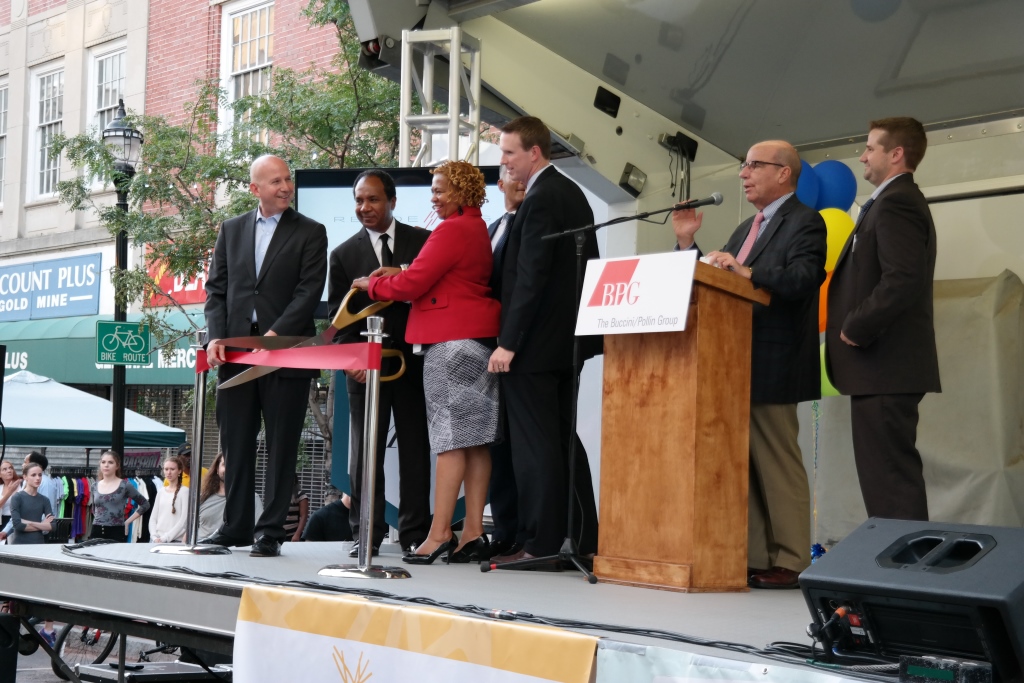 October 1, 2015 2:07 pm
With over 400 people in attendance, the ribbon cutting and grand opening of BPGS Constructions projects, 608 MKT and 627 MKT was a grand success! The ceremonial ribbon cutting was completed by Governor Jack Markell, Rob Buccini, Co-President of The Buccini/Pollin Group, Dr. Hanifa G.N. Shabazz, 4th District Council Member and Michael Hare, Senior Vice President of The Buccini/Pollin Group.
With floor to ceiling views of Market Street, quartz countertops, exposed elements and stainless-steel appliances the two new buildings have been well received by the community, 608 MKT has been leasing for 2 months and  is already 61% occupied while 627 MKT  plans to open its doors October 1st and is already 13% pre-leased.  Residents are enjoying the walkable lifestyle and convenient location.
Following the speeches and the ribbon cutting, guests were invited to tour 608 and 627 MKT for the chance to win a Mini iPad and enjoy the Tuned-IN Wilmington Block Party Masterpiece on Market featuring complimentary live performances throughout the 5th and 6th Street Blocks, a wine garden, food vendors, yard games and over 33 organizations and artist's booths.