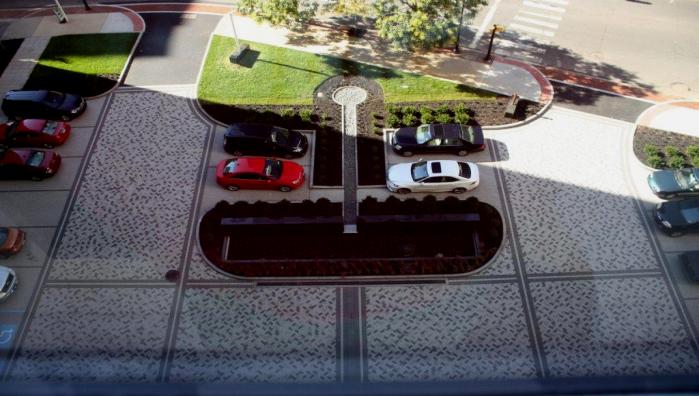 November 5, 2014 5:50 pm
Wilmington-based developer, owner and management company, The Buccini/Pollin Group, Inc. (BPG), owner of The Nemours Building located at 1007 North Orange Street Wilmington, Delaware is pleased to announce the completion of a major property upgrade undertaking that has helped the building land new tenants and provide a boost to the legal district.
The 14-floor, Class A building underwent a $3 million renovation completed by BPGS Construction that included a two-part face lift to the building's ground floor, as well as the rebranding and upgrading of the on-site extended stay furnished apartment community.  This marks the first major renovation to the property since it originally went through a $33 million-dollar transformation from a single-tenant to a mixed-used, multi-tenant building in 1999.
LuxiaSuites, previously a member of ExecuStay and now the region's premier locally-owned and operated extended stay community, features 85 fully furnished studio, one bedroom and two bedroom accommodations, and underwent a million dollar renovation and rebranding in January.
The building's ground floor improvements include a modernized main lobby and a redesigned motor court at the 10th Street entrance.  The new lobby design features modern wall and ceiling treatments that upgrade the lighting quality and modernize the ambiance, while complimenting the building's remaining art deco elements.  The redesigned motor court features pull-in parking spaces, granite pavers, and new landscaping, which includes a both decorative and functional water collection feature.
"We saw an opportunity in the market to recapitalize on what the Nemours Building has to offer," says BPG's Director of Asset Management, David Garonzik.  "With its central location and numerous on-site amenities, we felt that the extra push is all we would need to make it more competitive and appealing to new tenants in the market for commercial office space."
BPG's efforts have been proved successful, by tenant occupancy increase to nearly 90%.  The Law Firm of Marshall Dennehey Warner Coleman Goggin is now moving into their newly renovated 29,000 square-foot suite on the 6th floor.  The State of Delaware's Department of Insurance will be occupying an improved 19,000 sf suite on the 10th floor by the end of 2014.  Furthermore, the first Starbucks to make its way into the city of Wilmington just recently opened on the ground level of Nemours facing the new motor court on September 25th.   This is a success on several fronts, providing the building with a valuable tenant, while also serving as a valuable amenity for both the area's daily employees as well as residents.
Tamara Holt, General Manager of LuxiaSuites, is excited about the opening of the Starbucks, and sees the value of such a tenant first-hand. "Our guests are thrilled with the new Starbucks. It provides a familiar place for them to catch up on work or relax and read the newspaper, while staying away from home. Their food offerings are also great for quick grab-and-go breakfasts and lunches for the many professionals that work in the Nemours building and in the area."
The Nemours Building is one of Wilmington's largest office buildings with over 25 tenants and suite floor plans ranging from 1,000 to 45,000 square feet. No other building can offer as many on-site amenities and services such as Theater N, Plexus Fitness, Plexus Crossfit,  Dynamic Printing Services, Louviers Credit Union, LuxiaSuites Extend Stay Suites, Café Mezzanote, and of course the newly opened Starbucks. The building also offers an adjacent 450-space parking garage. To learn more about the Nemours Building and all that it has to offer, contact Michael Turick at MTurick@bpgroup.net or 302.691.2118