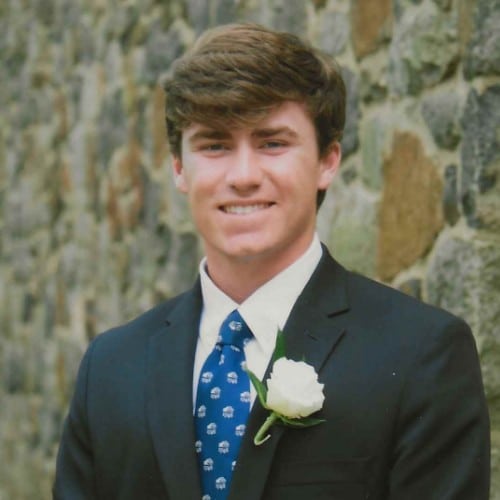 August 18, 2021 2:45 pm
We were thrilled to welcome Michael McKenzie, a rising junior at the University of Notre Dame, to our team this past summer. With a passion for Mechanical Engineering, Michael was a great asset to our team and we truly appreciate all of his hard work!
Read our interview with Michael below to hear what he had to say about his experience working for BPGS Construction.
Can you provide a little background information on what you are going to school for and when you are expected to graduate?
I am studying Mechanical Engineering at the University of Notre Dame. I'm a rising junior, so I'm slated to graduate in the Spring of 2023. This fall, I'll be studying abroad in Rome, where I'll be taking Differential Equations, Mechanisms & Machines, Theology and Historical Reality, Fluid Mechanics, All Roads Lead to Rome, and Experiencing Rome through community-based learning. I'll also be interning at Salvator Mundi International Hospital, and plan to run the Athens Marathon in November!
What would be your dream job after graduation?
I'm still not really sure. I enjoyed working in the construction industry this summer, but I also have interests in renewable energy and medical devices, so I'm still exploring a wide range of industries.
What do you feel you learned the most during your time at BPGS? Was there anything that surprised you?
I think the biggest takeaway from my time at BPGS was how to effectively communicate and collaborate with a team. This applies to both the team within BPGS, as well as the larger team consisting of all the subcontractors, architects, engineers, the owner, and the operator. I think I was most surprised by how wide the BPGS project teams' scopes of work are, as well as by how much they do as a company throughout the Wilmington area and beyond. 
What was your favorite moment while interning with BPGS?
I can't say that I have a specific favorite moment. I really enjoyed having the opportunity to meet everyone within BPGS at the Build and Learns. I also loved being onsite and getting to walk the site: I could see everything we reviewed in the plans and got to talk to and learn from people of all walks of life and extremely knowledgeable in a variety of trades.
What led you to an internship here?
I've always had an interest in construction, as my grandfather was an architect and owned his own small construction business. I remember accompanying him to repair the rental properties he owned on the Eastside of Wilmington and seeing the neighborhoods he helped design. Having the opportunity to do something in the same vein has really allowed me to appreciate how much he knew and was able to do, as he could design a building as an architect and follow through all the way to actually constructing the building in the role of a subcontractor. BPGS was a cool opportunity in the fact that I was able to learn a lot about what he did, explore the roles that I could potentially work in within the construction industry, and do it all in Wilmington.
How has your hands-on experience differed from your classroom experience?
As a mechanical engineering major that has just begun to wrap up general requirements and dive into my major, the hands-on experience was unlike anything I'd done before. Generally speaking, the same engineering problem-solving approach is required in the classroom, but to a lesser degree. Designing something in practice is very different from actually implementing it; something might look good on paper, but if the logistics to construct it are too difficult or impossible, the design wasn't really successful.
Looking to join a company as dynamic as you are that is making a difference? Click here for current opportunities.