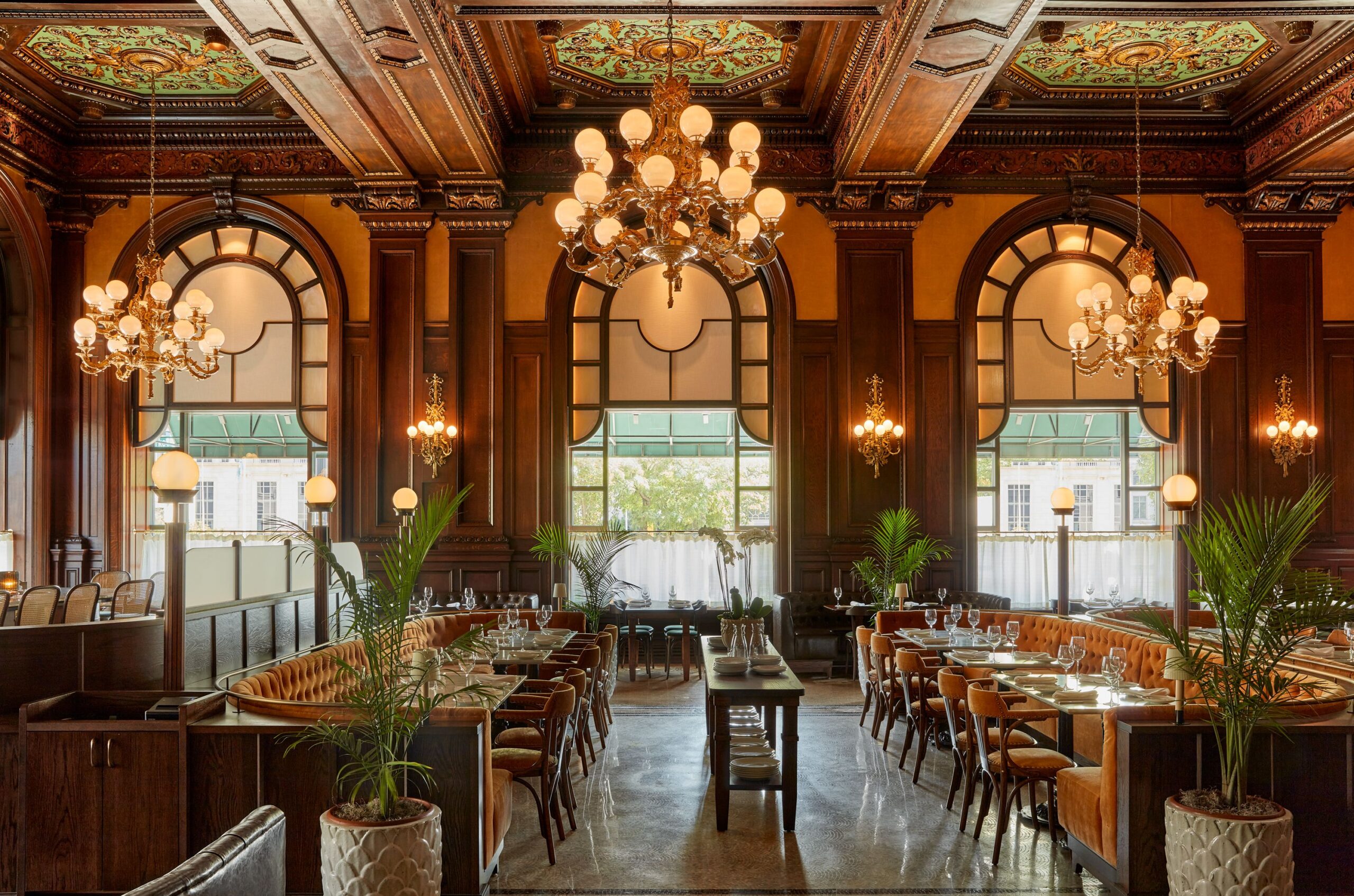 January 5, 2021 3:38 pm
From more than 250 nominees, Le Cavalier at The Green Room, located inside the historic DuPont Building has received the Historic Hotels of America (HHA) Best Historic Restaurant Award. This prestigious award recognizes the transformation yet preservation of this historic space originally constructed in 1913. Unique project features include the restoration of the The Green Room's original mosaic tile floor, fumed oak paneling and ornate plaster ceiling. The restaurant's overall design honoring the equestrian tradition – to which the du Pont's were deeply rooted in the Brandywine Valley – has proven to be successful in its contemporary visual translation.
See gallery of before and after photos showing The Green Room's gradual transformation.
Award recipients were selected from nominees received from historic hotels, historic preservation supporters, prior award recipients, and leadership from Historic Hotels of America and Historic Hotels Worldwide. As official programs of the National Trust for Historic Preservation, Historic Hotels of America and Historic Hotels Worldwide provide the recognition to travelers, civic leaders, and the global cultural, heritage, and historic travel market that member hotels are among the finest historic hotels across America and around the world. The Historic Hotels Annual Awards of Excellence program recognizes the pinnacle of this distinct group of nominees in a range of categories.
The Hotel Dupont was also a finalist in the categories of Best Historic Hotel (midsize) and Best City Center Hotel (for a second year in a row). The 2021 Historic Hotels Awards of Excellence Ceremony is planned for November at The American Club at Destination Kohler in Kohler, Wisconsin.
About Historic Hotels of America®
Historic Hotels of America is the official program of the National Trust for Historic Preservation for recognizing and celebrating the finest Historic Hotels. Historic Hotels of America has more than 300 historic hotels. These historic hotels have all faithfully maintained their authenticity, sense of place, and architectural integrity in the United States of America, including 44 states, the District of Columbia, the U.S. Virgin Islands, and Puerto Rico. Historic Hotels of America is comprised of mostly independently owned and operated historic hotels. More than 30 of the world's finest hospitality brands, chains, and collections are represented in Historic Hotels of America. To be nominated and selected for membership into this prestigious program, a hotel must be at least 50 years old; has been designated by the U.S. Secretary of the Interior as a National Historic Landmark or listed in or eligible for listing in the National Register of Historic Places; and recognized as having historic significance. For more information, please visit HistoricHotels.org.
About Historic Hotels Worldwide®
Washington DC based Historic Hotels Worldwide® is a prestigious collection of historic treasures, including more than 360 legendary historic hotels including many former castles, chateaus, palaces, academies, haciendas, villas, monasteries, and other historic lodging spanning ten centuries. Historic Hotels Worldwide recognizes authentic cultural treasures that demonstrate exemplary historic preservation and their inspired architecture, cultural traditions, and authentic cuisine. To be nominated and selected for induction into Historic Hotels Worldwide, historical lodging properties must be at least 75 years old; utilize historic accommodations; serve as the former home or be located on the grounds of the former home of famous persons or significant location for an event in history; be located in or within walking distance to a historic district, historically significant landmark, place of historic event, or a historic city center; be recognized by a local preservation organization or national trust; and display historic memorabilia, artwork, photography, and other examples of its historic significance. For more information, please visit HistoricHotelsWorldwide.com.