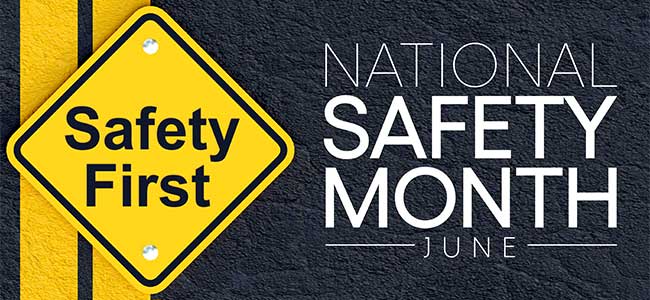 June 16, 2023 2:56 pm
June is National Safety Month. While safety is important each and every day of the year, we take time during the month of June to amplify our workplace safety efforts against preventable injuries and illnesses. This year's national focus is on emergency preparedness; slips, trips, and falls; heat-related illness; and hazard recognition. At BPGS, we'll hone in on heat-related illness as we enter the summer months and host toolbox talks for all of our subcontractors about working in hot environments.
These topics go hand-in-hand with OSHA's Focus Four campaign that we have been implementing over the past four months. The initiative targets the most common hazards seen on construction sites and focuses on the methods for the recognition and the prevention of these common hazards. The four hazards are Electrical Shock, Struck by Object, Falls, Caught-in/between.
From March through June, BPGS hosted monthly toolbox talks for all our active onsite subcontractors to raise awareness in the recognition, evaluation, and control of these hazards.
According to the Bureau of Labor Statistics, approximately one in five worker fatalities in 2021 were in construction. The leading causes of worker deaths on construction sites were falls, followed by struck-by, electrocution, and caught-in/between. These "Fatal Four" hazards were responsible for more than half (59%) of the construction worker deaths in 2021, according to BLS reports.
Falls – 390 out of 968 total deaths in construction in CY 2021 (~40%)
Struck by Object – 75 (~8%)
Electrocutions – 74 (~8%)
Caught-in/between – 29 (~3%)
Eliminating these four hazards would save a minimum of 568 lives.
Our goal at BPGS Construction is always zero incidents and injuries on our jobsites. Through continual education and prevention trainings like these, we can continue to send everyone home safely each and every day.