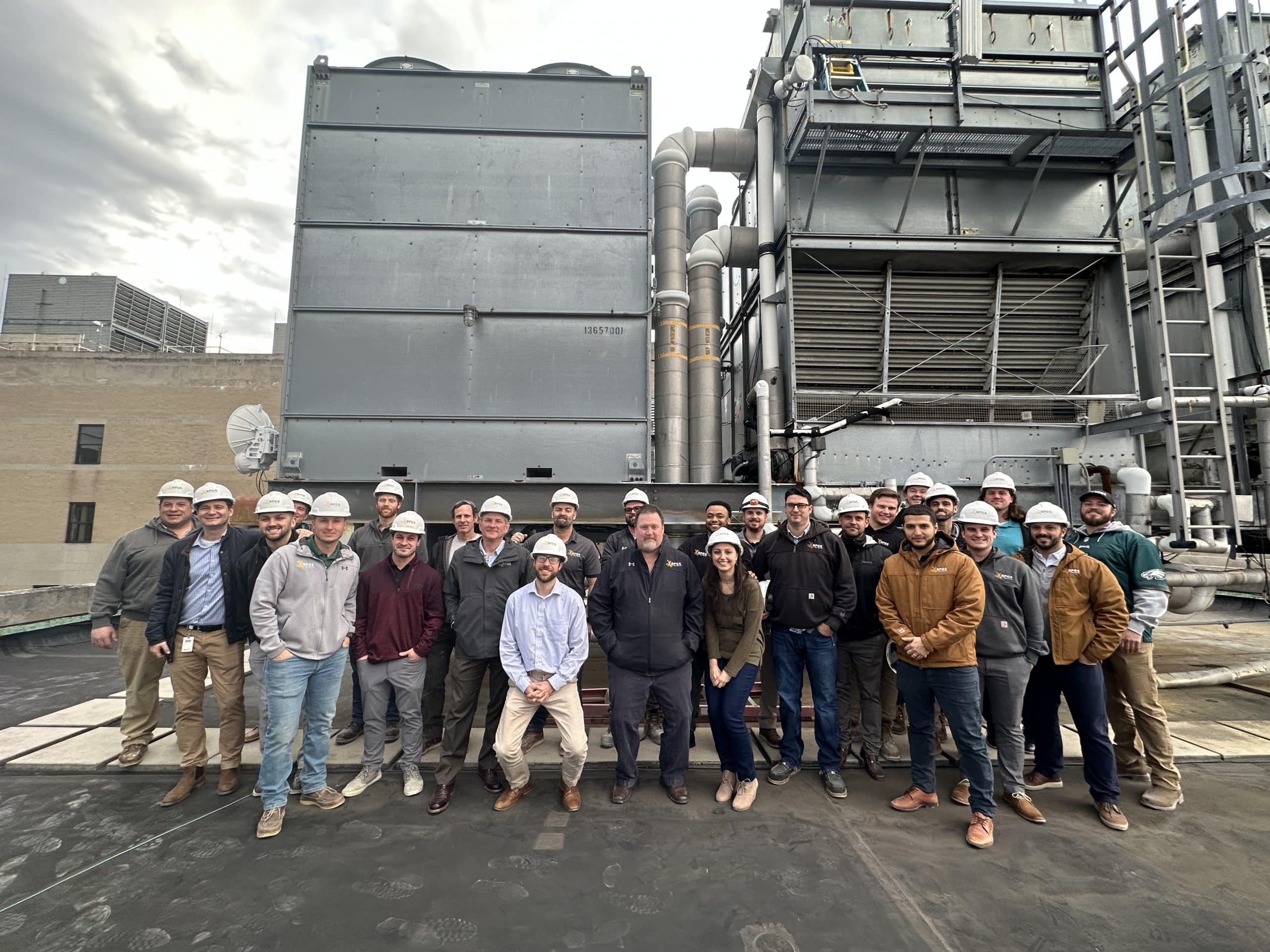 February 20, 2023 7:04 pm
At BPGS Construction, continuous learning is a crucial part of the company culture. BPGS is dedicated to empowering associates with knowledge to further their careers while also fostering an environment of comradery. Through the years, the team has developed strategic Build and Learn sessions in which all associates gather at a current job site for a lesson on unique aspects of the project or discussion on how an obstacle was overcome.
Last week Project Engineer II Andrew Rombach discussed the different mechanical systems used throughout Phase I of the Nemours Residential project. Phase I of the project will transform the former LuxiaSuites into 92 luxury apartment units.
The Nemours Building utilizes water-source heat pumps and a condenser water loop to heat and cool the apartment units. Broken down, the Condenser Water System is comprised of 4 mechanical systems that work in harmony to produce an efficient transfer of energy.
Water-Source Heat Pumps (WSHP)
Water-Source Heat Pumps are responsible for local heating or cooling and are operated by the tenant via thermostat. For Phase I we opted for a vertical stack WSHP. A vertical stack is ideal for residential units as it's more energy efficient, cost effective, requires less duct work, and can be concealed in a smaller space.
Cooling Towers
Cooling towers are required to extract heat from the water loop system. The cooling towers atop of the Nemours Building are a closed-circuit system meaning there is no contact between the air and the fluid being cooled. A closed-circuit system is easier to maintain and more cost effective in the long run.
Steam-Powered Heat Exchanger
When the WSHP is in heating mode, the steam-powered heat exchanger is working to increase the water loop temperature. For Phase I we are utilizing tube style heat exchangers which are more efficient as they have a high heat transfer rate. In Phase II of Nemours Residential, we will be switching to boilers for heat injection.
Mechanical Piping
A 2-pipe, supply and return system is used to distribute condenser water to WSHP's throughout the Nemours Building for heating and cooling. Due to its compactness, the 2-pipe system requires less space in mechanical rooms and allows for more flexibility in design.
Nemours Residential Phase I is slated to open mid-summer of 2023!
Looking to join a company that values professional development and invests in its associates? Click here for current opportunities!