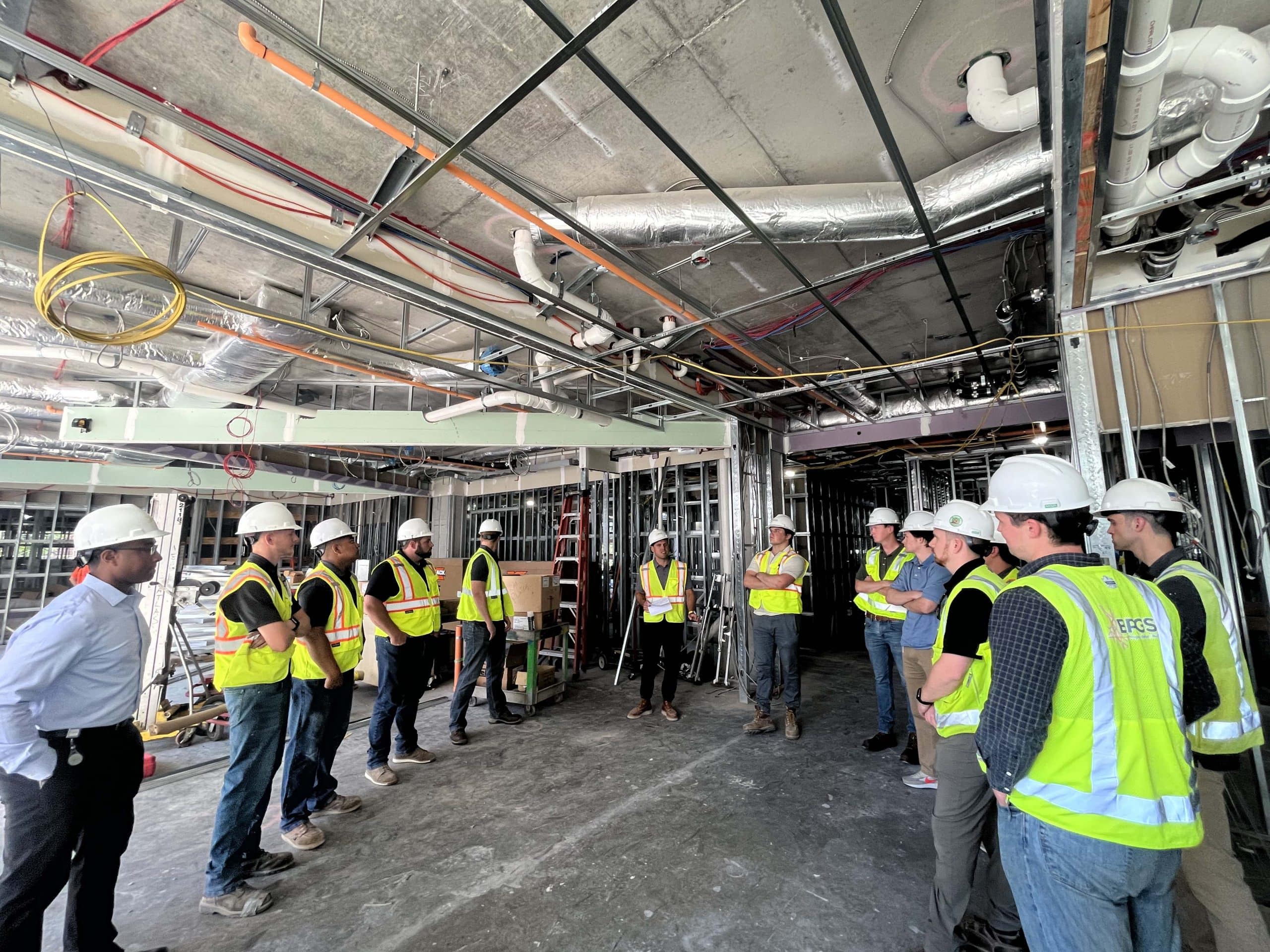 July 7, 2022 3:16 pm
At BPGS Construction, continuous learning is a crucial part of the company culture. BPGS is dedicated to empowering associates with knowledge to further their careers while also fostering an environment of comradery. Through the years, the team has developed strategic Build and Learn sessions in which all associates gather at a current job site for a lesson on unique aspects of the project or discussion on how an obstacle was overcome.
Last week Project Executive Rick DiCesare discussed the different change orders necessary on the 203-unit multifamily residential community at Crosby Hill. When shop drawings differ from renderings, it is easy to blame others for missing elements. However at BPGS, we think like builders. We take full responsibility, ask the right questions, and solve the tough problems. Our job is to make the renderings come to life for ownership one way or another.
At Crosby Hill, there were a number of instances in which shop drawings varied from construction drawings. The site team needed to interpret the drawings and submit change orders without sacrificing design intent in order to fulfill the concept. For example, the window wall system on the 11-story tower is a key part of the design. Visually, the exterior appears uninterrupted, however, in order to make it work structurally, the team utilized different systems on the lower floors versus the upper floors and penthouse. Another example is the hydraulic garage door off the courtyard into the amenity space. While not included in the original design, this custom entry was requested by the client early enough in the process to submit a change order.
Other lessons learned on this project related to the importance of the schedule at the onset of the job. The first floor amenities are often overlooked in the waterfall sequence for subcontractors, but they are the areas where clients invest the most money into their buildings. Expectation should be set early on with subs to include amenities into the schedule. At some point, access needs to be limited for loading and storage to complete the spaces with the attention to detail required. Material delays are also common throughout the industry right now. Lead times always need to be referenced and orders may need to be pushed early in order to remain on schedule and avoid delays.
The Build and Learn then ended with a surprise party for our fearless leader, Executive Vice President of Development and Construction John Groth, on his 50th birthday!
Looking to join a company that values professional development and celebrates its company culture? Click here for current opportunities!