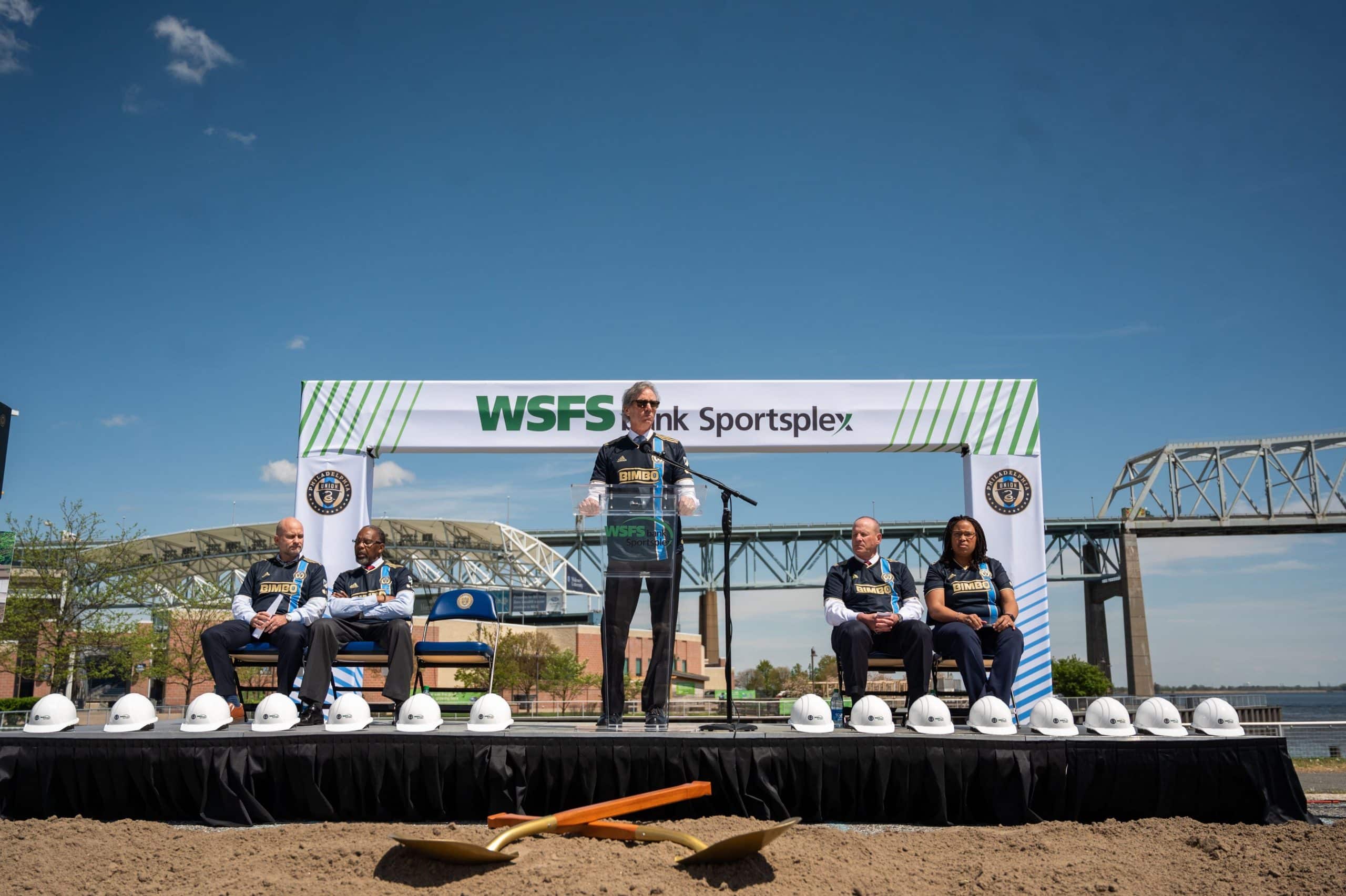 April 19, 2023 3:07 pm
CHESTER, Pa. (April 17, 2023) – Philadelphia Union today held a groundbreaking ceremony for its new world-class sports and recreation facility, WSFS Bank Sportsplex to celebrate the start of construction for the 365-day-a-year, 170,000 sq. ft. complex, in partnership with WSFS Bank. Those in attendance included Philadelphia Union majority owner Jay Sugarman, Philadelphia Union President Tim McDermott, WSFS Chairman, President and CEO Rodger Levenson, and Mayor of Chester, Mayor Thaddeus Kirkland, as well as players from the Philadelphia Union, Philadelphia Union II, Philadelphia Union Academy and Chester High School.
"We are excited to take this important step toward bringing WSFS Bank Sportsplex, a state-of-the-art destination for our local community, youth sports, and our teams, to life," said Tim McDermott, Philadelphia Union President. "This project furthers our commitment to revitalizing the Chester waterfront and creating positive change. We look forward to soon seeing both Union players and community members playing on these fields and utilizing the new training grounds where we will grow the game together."
"We are proud of the impact the WSFS Bank Sportsplex will have on Chester and the broader community," said Rodger Levenson, WSFS Chairman, President and CEO. "Our partnership with the Philadelphia Union is a great example of the positive change that two like-minded organizations with similar values can have by working together for the benefit of the communities we serve."
First announced last fall, the beginning of construction of the WSFS Bank Sportsplex is a significant step in the development and revitalization of the Chester Waterfront that will create additional jobs and drive a drastic increase in revenue in the Chester community. In addition, the project will bring the Philadelphia Union Academy and YSC Academy to one campus alongside the first and second teams, furthering the commitment to youth development and the player-to-pro pathway.
As the naming rights partner, WSFS Bank has also committed to donate 365 hours of field and facility usage to community organizations to continue efforts to strengthen community ties and provide a safe, welcoming, and exceptional campus for community members to come to.
The state-of-the-art sports complex will span 32 acres between Subaru Park and the Union Power Plant office building. The complex will include a 100,000 sq. ft. indoor facility that will be available for community use and an adjacent 70,000 sq. ft. support building that will house Philadelphia Union II (MLS NEXT Pro) as well as the Philadelphia Union Academy. The indoor facilities will include a 125×75 yard turf field, two multi-sport courts, an 8,000 sq ft performance center, 5,000 sq ft of flex space for specialized athletic training, and a café for athletes and guests. The indoor facility will be complemented by seven outdoor multi-sport fields including one championship grass field with spectator seating, two additional full-size grass fields, one youth-size grass field, and three full-size turf fields.
The build is estimated to create $90 million in economic impact over the first decade and provide 500,000 visits annually to the Chester Waterfront. In addition to the positive economic impact, the sportsplex will donate hundreds of additional hours in court and field time for community use and health and wellness programming, available to be used by Chester youth and local organizations.
The school (YSC Academy) and the Philadelphia Union Academy will move to the Chester campus beginning in 2023. The outdoor fields are set to be in place by August 2023 and the indoor facilities to open May 2024.
Parking in lots B and BVIP will remain available through the Union's home match for the Scotiabank Concacaf Champions League semifinals on April 26. Further updates regarding parking will be provided for future matches. For more information, please visit www.WSFSBankSportsplex.com.
ABOUT PHILADELPHIA UNION
The Philadelphia Union is an innovative, forward-thinking professional soccer club competing in Major League Soccer (MLS) and one of Philadelphia's five major league sports teams. Driven by unprecedented fan support, MLS awarded the Philadelphia expansion franchise rights to Jay Sugarman in 2008 and the Union kicked off its inaugural season in 2010. The club has reached the finals of the Lamar Hunt U.S. Open Cup in 2014, 2015 and 2018, and has appeared in the MLS Cup Playoffs in 2011, 2016, 2018, 2019, 2020, 2021, and 2022. In 2020, the Union were awarded the club's first Supporters' Shield after finishing with the best regular season record in MLS. In 2022, the Union reached the MLS Cup Final for the first time in club history.
The Philadelphia Union is part of parent company Union Sports and Entertainment LLC, which also operates Philadelphia Union II, the Philadelphia Union Academy, Philadelphia Union Foundation and Philadelphia Union Youth Programs. With a commitment to developing youth, the Union has signed 20 academy prospects to homegrown player contracts.
The Union play at Subaru Park in Chester, PA on the banks of the Delaware River. The custom-built stadium is part of the Union's unique waterfront campus, featuring a historic power plant rebuilt into a 400,000 sq. ft. creative office building, a state-of-the-art Training Complex, over 7 acres of professional-grade practice pitches and multiple onsite parking fields. For more information about the Philadelphia Union, visit www.philadelphiaunion.com and follow @PhilaUnion on Twitter or Instagram.
ABOUT WSFS FINANCIAL CORPORATION
WSFS Financial Corporation is a multibillion-dollar financial services company. Its primary subsidiary, WSFS Bank, is the oldest and largest locally headquartered bank and trust company in the Greater Philadelphia and Delaware region. As of December 31, 2022, WSFS Financial Corporation had $19.9 billion in assets on its balance sheet and $64.5 billion in assets under management and administration. WSFS operates from 119 offices, 92 of which are banking offices, located in Pennsylvania (61), Delaware (39), New Jersey (17), Virginia (1) and Nevada (1) and provides comprehensive financial services including commercial banking, retail banking, cash management and trust and wealth management. Other subsidiaries or divisions include Arrow Land Transfer, Bryn Mawr Capital Management, LLC, Bryn Mawr Trust®, The Bryn Mawr Trust Company of Delaware, Cash Connect®, NewLane Finance®, Powdermill® Financial Solutions, WSFS Institutional Services®, WSFS Mortgage®, and WSFS Wealth® Investments. Serving the Greater Delaware Valley since 1832, WSFS Bank is one of the ten oldest banks in the United States continuously operating under the same name. For more information, please visit www.wsfsbank.com.