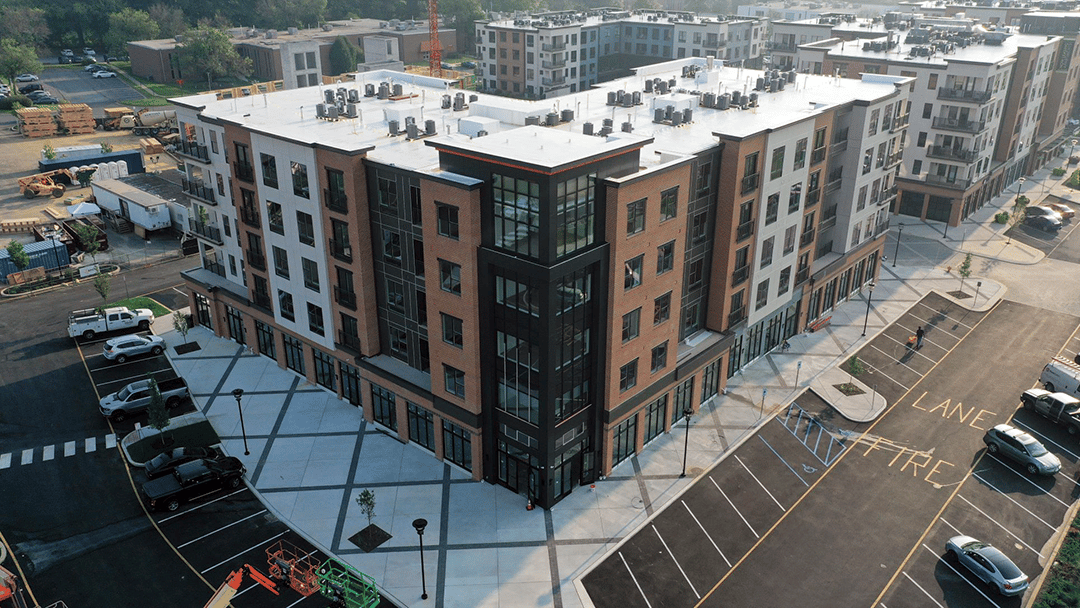 September 30, 2021 3:48 pm
The Concord redevelopment transforms the former Concord Plaza office park in North Wilmington, DE into a thriving mixed-use community, introducing multi-family residential and high-end retail to complement the existing commercial offices in an area that has largely been stagnant with respect to new construction for many years.
Completed in June 2019, phase I of the redevelopment consisted of three 5-story apartment buildings, one with ground-floor amenities and two with ground-floor retail. Buildings B, D, and E included 166 luxury apartments, 30,000 square feet of retail space, a private pool and outdoor courtyard, two-story resident clubhouse complete with a game room and media center, as well as a two-story fitness center, and dog washing station. Phase I also introduced new restaurants, retail, and offices to the community with Taverna Rustic Italian, El Camino Kitchen, Legion Fitness, [solidcore], The Mill Concord coworking space, Paypal, and Amstel Babershop.
Phase II, which was completed by BPGS during Summer 2021, brought an additional 60 apartments and 12,000 SF of retail space with the construction of Building C as well as a brand new single-tenant 60,000 SF Class A building for Marlette Funding's new headquarters. Completed in July 2021, Marlette Funding signifies BPGS construction's first ground-up project designed with COVID-19 in mind. Building C is also the new home for NovaCare Rehabilitation. The 5,000 SF tenant fit out was completed in August 2021 along with the remaining floors of the mixed-use residential and retail building.
The final phase of The Concord redevelopment is currently under construction and is slated for completion in Summer 2022. Phase III includes 2 additional apartment buildings totaling 113 additional units. Upon completion, the redevelopment will convert 185,000 square feet of underutilized office space to 353 apartment units, 42,000 SF of retail, and 60,000 SF of Class A office space in a walkable community setting.