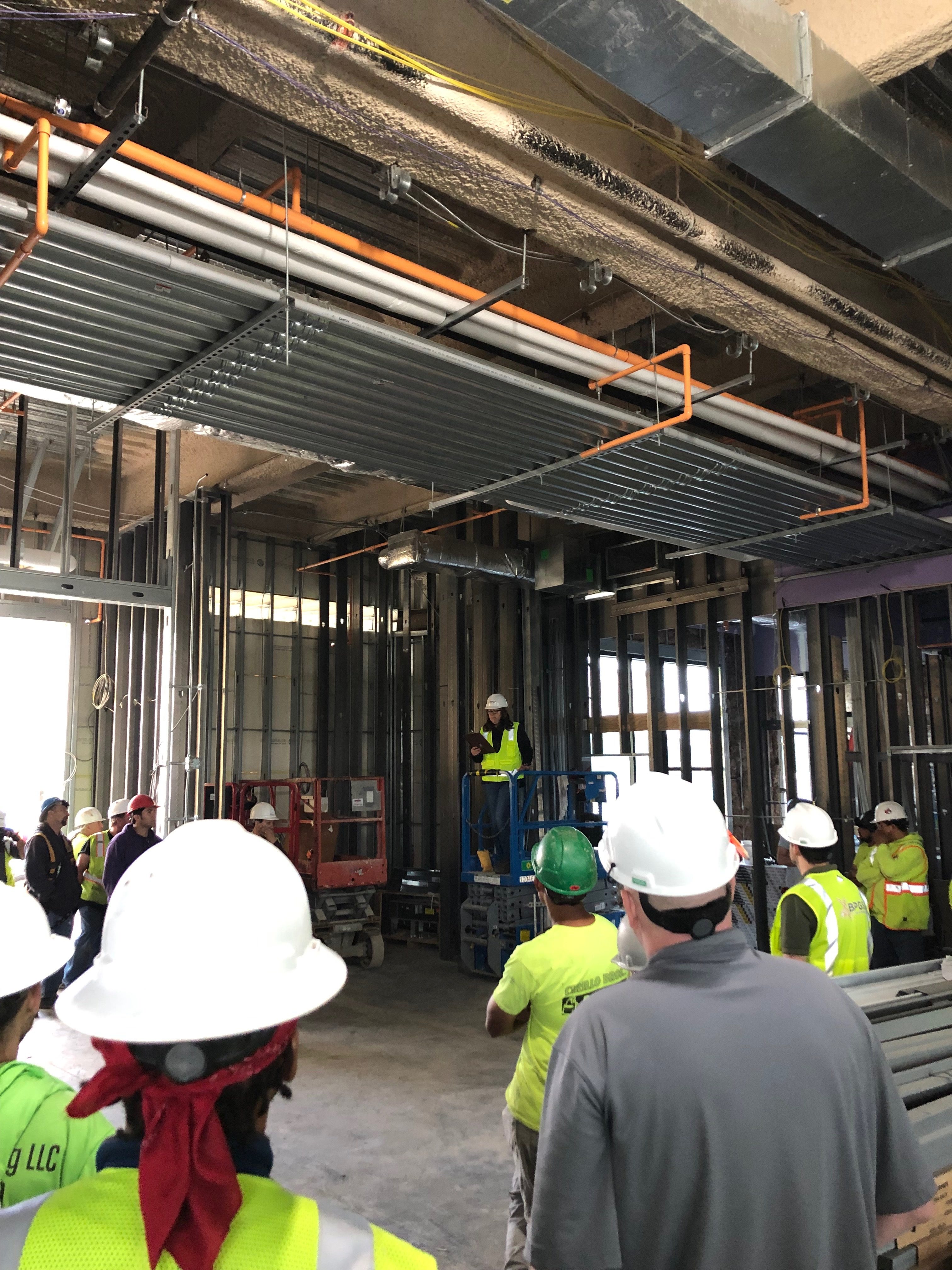 May 6, 2019 8:20 am
Members of the BPGS Construction crew participated in OSHA's National Stand Down to Prevent Falls in Construction Week, May 6th – 10th.
What is a Safety Stand-Down?
A Safety Stand-Down is a voluntary event for employers to talk directly to employees about safety. Any workplace can hold a stand-down by taking a break to focus on "Fall Hazards" and reinforcing the importance of "Fall Prevention". Employers of companies not exposed to fall hazards, can also use this opportunity to have a conversation with employees about the other job hazards they face, protective methods, and the company's safety policies and goals. It can also be an opportunity for employees to talk to management about fall and other job hazards they see.
Safety Administrator, Michele Garcia and Superintendents, led the charge for BPGS Construction, conducting Toolbox talks on Fall Prevention with all the subcontractors on currently active sites – Nemours Sports Medicine at 76ers Fieldhouse and Homewood Suites. In addition to the concentrated talks on Fall Prevention, Aerial lift safety was also covered due to presence of multiple aerial lifts on each site.
What would a fireside chat be without coffee and donuts?
Project Safety Administrator, Michele Garcia, leads a Toolbox Talk with Subcontractors On Fall Prevention and Aerial Lifts
Toolbox Talks Topics: Fall Prevention and Aerial Lifts
Subcontractors From Active Sites: Homewood Suites at Riverfront Wilmington and Nemours Sports Medicine at 76ers Fieldhouse
Attendants Received A Sticker for Participating in OSHA National Stand Down Fall Prevention Week May 6 – 10th, 2019
Consistently going the extra mile, BPGS Construction was happy to participate in the Stand-Down to prevent hazards in the workplace. OSHA is partnering with key groups to assist with this effort, including the National Institute for Occupational Safety and Health (NIOSH), the National Occupational Research Agenda (NORA), OSHA approved State Plans, State consultation programs, the Center for Construction Research and Training (CPWR), the American Society of Safety Engineers (ASSE), the National Safety Council, the National Construction Safety Executives (NCSE), the U.S. Air Force, and the OSHA Training Institute (OTI) Education Centers.
#StandDownForSafety