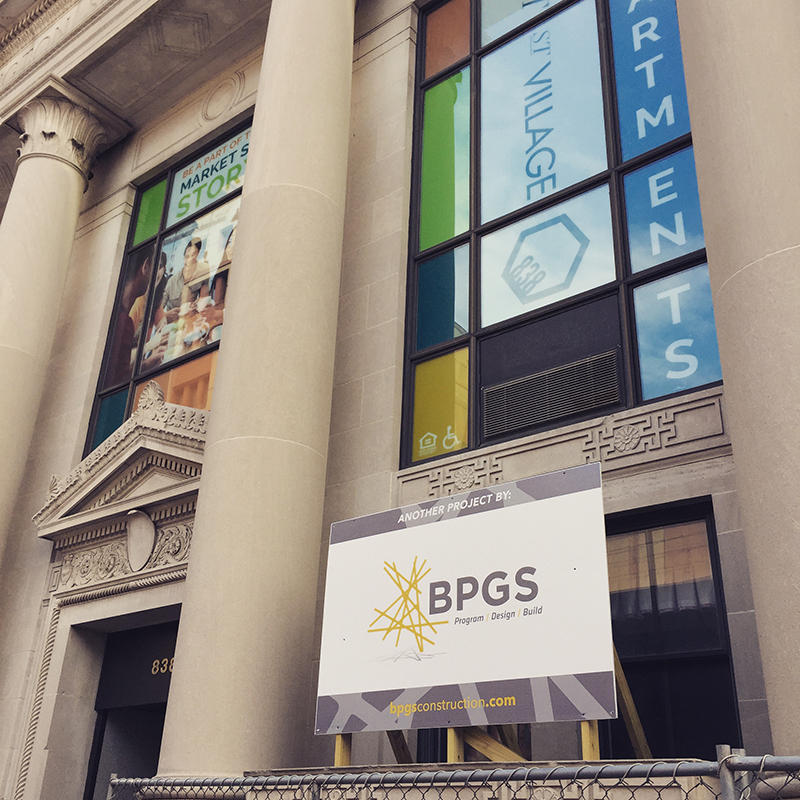 February 18, 2015 10:15 pm
Last Thursday, The Buccini/Pollin Group and BPGS Construction celebrated the continuous city-wide effort to rejuvenate Market Street. This was a pivotal moment for the BPGS Construction and the community came together to commemorate the progress the city has made. This is just the beginning of the Market Street story as several other developments are underway including 608 and 627 Market Street.
The Market Street corridor now has no shortage of restaurants and entertainment spots and a plenitude of daily traffic. The city's main goal now is to attract 5,000 new residents over the next five years, and local businesses and residents are jumping on board to help. With BPGS Construction's efforts to bring more businesses, modern apartment living and numerous entertainment venues, the company is setting the stage for continued growth for The City of Wilmington.
BPGS Constructions current project, Market Street Village  consists of 76 apartments in the existing historical buildings 838, 839, and 6 East 3rd Market Street. This project was founded to fill a need for low-income housing and convenient, community-oriented living to support downtown Wilmington's booming education center. The developers for the project, The Buccini/Pollin Group believe that a community centered around education and arts will further connect the fabric of the city and create a brighter future for all.
Wilmington is turning over a new leaf and positive happenings such as The Market Street Village groundbreaking have taken center stage on headlines such as NY Times, NBC10, and Town Square Delaware News. BPGS Construction is all-in and looking towards the future of Wilmington.