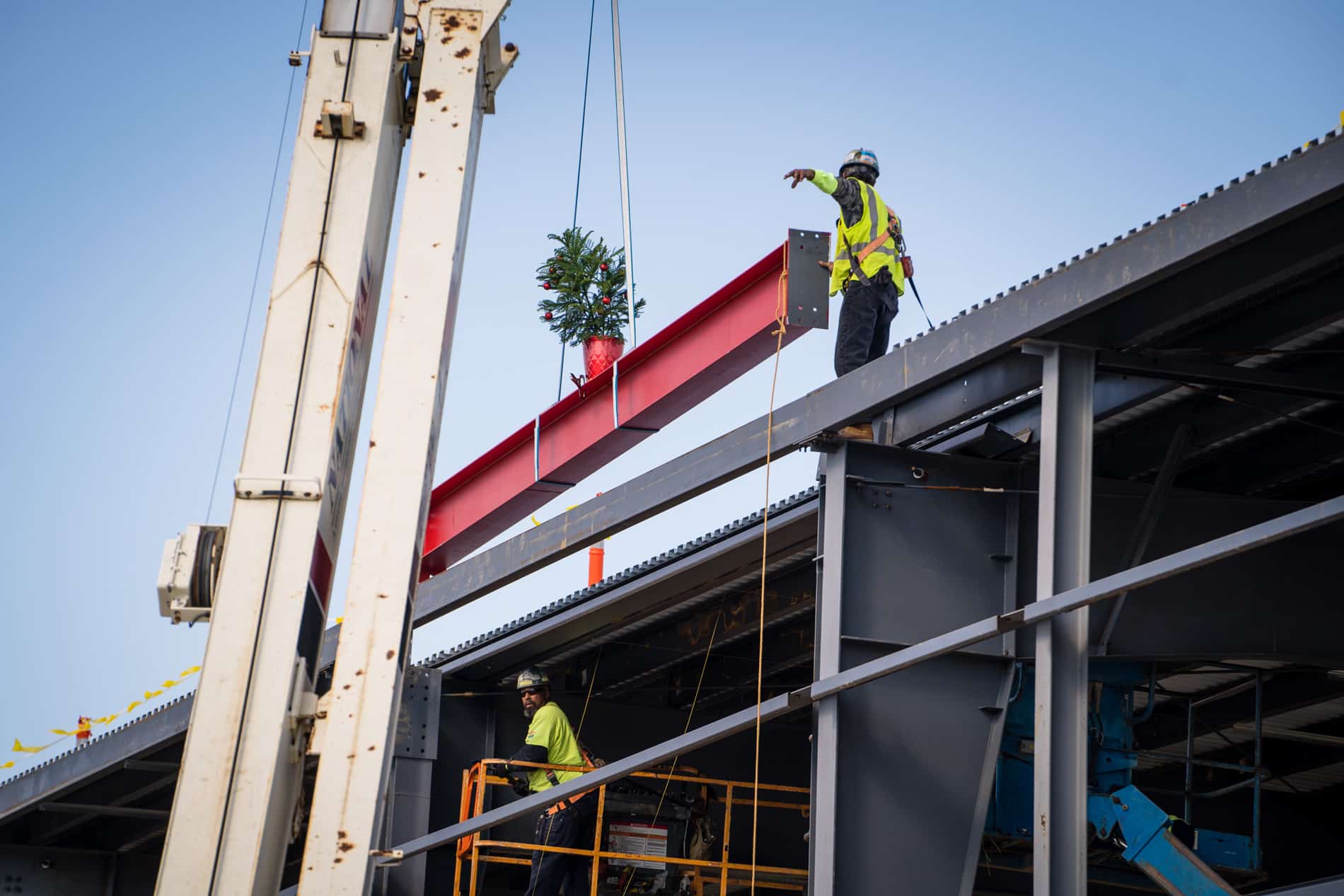 October 26, 2021 6:26 pm
On Friday, October 22, BPGS Construction joined government officials, the Riverfront Development Corporation, and Salvation Army to celebrate the topping out of Salvation Army's new Riverfront East campus. The new campus will consist of three buildings for a rehabilitation center, retail store, storage and office space on South Walnut Street, north of the Chase Fieldhouse. The 40,000 SF Adult Rehabilitation Center (ARC) will feature first-floor amenities, including a kitchen, dining room, recreation room, and chapel, and 2nd-floor dormitories, providing housing for 80 residents. The Retail & Warehouse buildings will feature a 17,000 SF customer-facing retail store, and 31,000 SF warehouse for donation storage and office space. The new campus will also feature a 65-space parking lot.
Guests were invited to sign a Salvation Army-red beam complete with a Christmas tree before being raised to the top of the new warehouse structure. Senator Chris Coons, Lieutenant Governor Bethany Hall-Long, New Castle County Executive Matt Meyer, and Mayor Mike Purzycki were in attendance to sign the beam and recognize Salvation Army's commitment to the City of Wilmington.
"This is a wonderful day for Wilmington, for the Salvation Army, and for our community. These new buildings–that will be beautiful, state-of-the-art, $19 million facilities–will continue to provide the services and the support that the Salvation Army has provided for decades here on the east side of the Christina River," said Senator Coons.
Construction is funded by the RDC and supported with $705,000 worth of in-kind donations from contractors.
The topping out of the warehouse is also a significant milestone for the Riverfront East Development. With the completion of Salvation Army's new campus, phase one of the development may begin with the construction of new roadways creating South Orange Street between South Market Street and the River as well as a riverwalk on the eastern side.
To continue reading about the project's significance, please see media coverage from the topping out below.