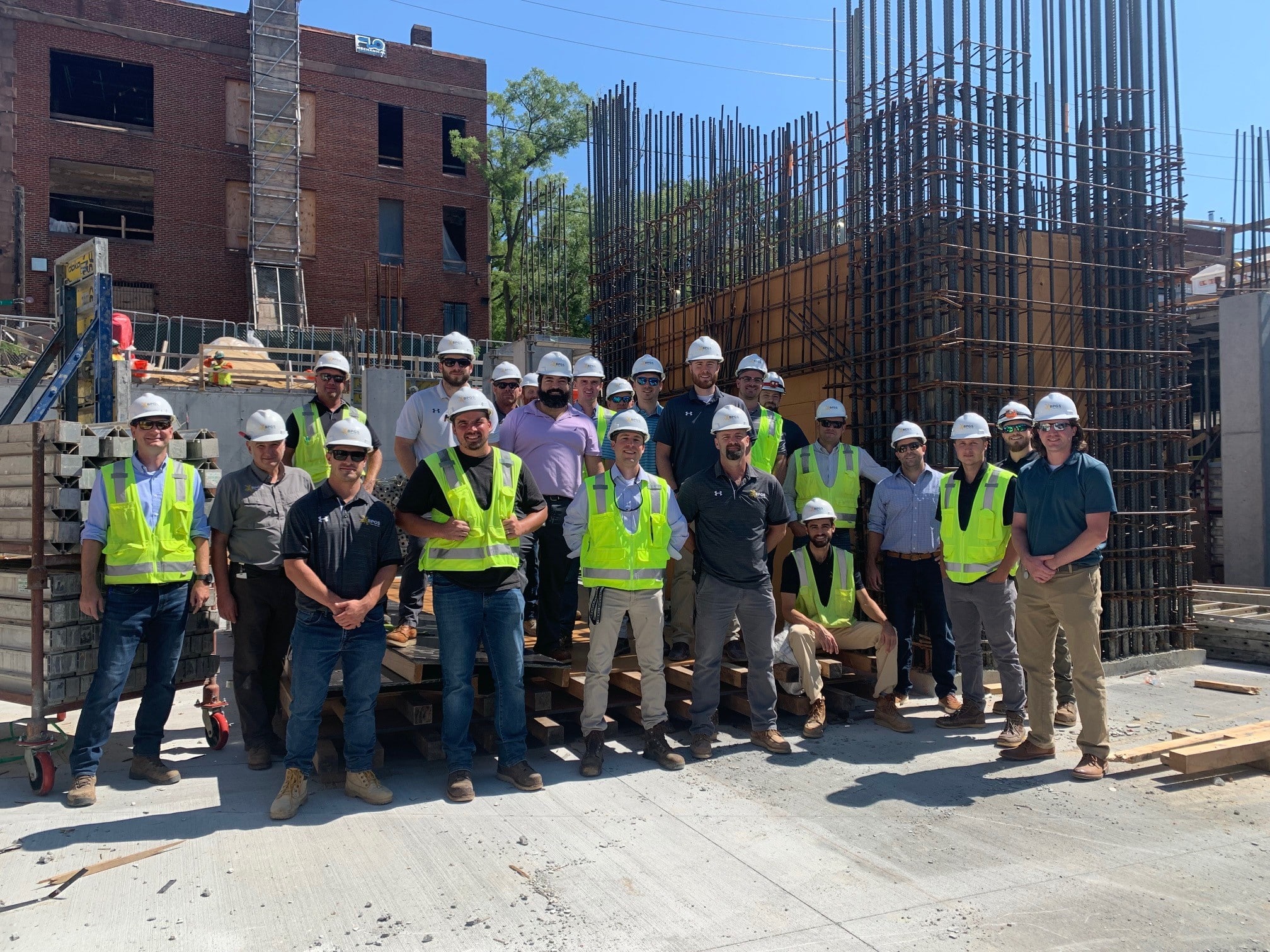 September 16, 2021 3:51 pm
At BPGS Construction, continuous learning is a crucial part of the company culture. BPGS is dedicated to empowering associates with knowledge to further their careers while also fostering an environment of comradery. Through the years, the team has developed strategic Build and Learn sessions in which all associates gather at a current job site for a lesson on unique aspects of the project or discussion on how an obstacle was overcome.
In August, Project Executive Rick DiCesare discussed the post-tensioning technique being utilized at the Crosby Hill project to reinforce the concrete, in which the tendons are stressed after the concrete has hardened. Unlike pre-tensioning, which can only be done at a precast manufacturing facility, post-tensioning is performed on the jobsite in cast-in-place applications before the service loads are applied. Post-tensioning tendons are steel cables inside plastic ducts that protect them from bonding with the concrete. The tendons are positioned before the concrete is poured, and once the concrete is placed and has gained strength, typically 2-4 days, the tendons are stressed and anchored against the outer edges of the concrete.
Post-tensioned concrete provides a light, structurally efficient and durable solution for the construction of high rise residential buildings, like Crosby Hill. Longer, thinner slabs result in greater design flexibility and require less reinforcing steel ultimately reducing the overall foundation. After the concrete is stressed, it cures for 28 days and reshoring is used to shore the deck for structural dead loads. The reshore can be removed when it can support itself and the live load. At Crosby Hill, the reshore is removed floor by floor after approval from the structural engineer.
Post-tensioned concrete is being utilized on nearly every elevation at Crosby Hill. On a single floor alone, there are over 200 penetrations. The sheer amount of concrete utilized in this project reflects the importance of the post-tensioning process. The initial concrete pour for the lowest level of this project covered an estimated 800 yards with 750 tons of concrete in a single day alone. 80 concrete trucks were needed to complete this pour.