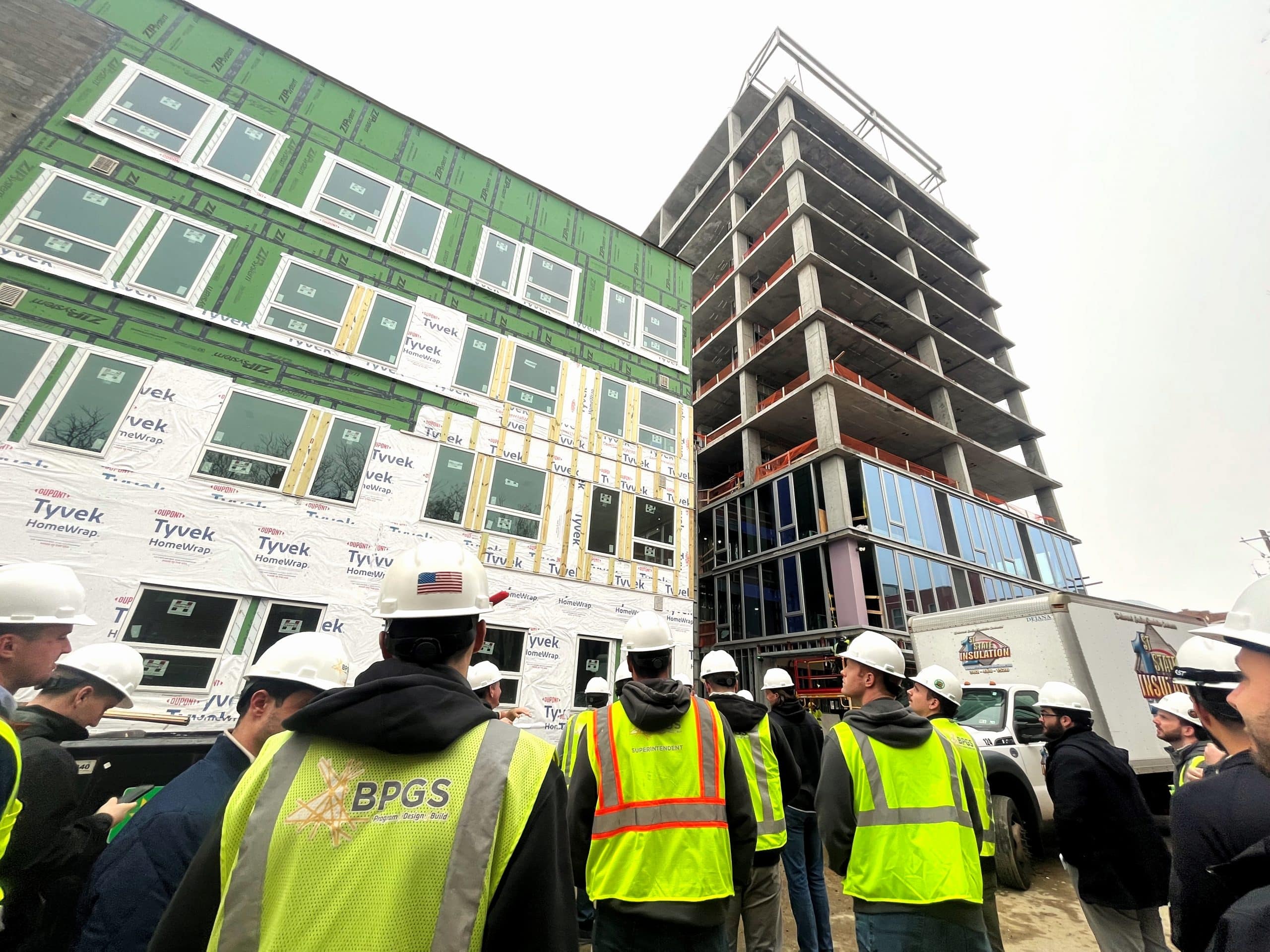 April 7, 2022 5:30 pm
At BPGS Construction, continuous learning is a crucial part of the company culture. BPGS is dedicated to empowering associates with knowledge to further their careers while also fostering an environment of comradery. Through the years, the team has developed strategic Build and Learn sessions in which all associates gather at a current job site for a lesson on unique aspects of the project or discussion on how an obstacle was overcome.
This month Project Executive Rick DiCesare explained the different exterior façade systems utilized at Crosby Hill. This multi-family apartment community consists of two 4-story wood-framed buildings and an 11-story post-tensioned concrete high-rise. Because the buildings are constructed of different structural materials, the exterior façade systems vary throughout the project and coordination is much more involved. When specifications are not included on the drawings, it is important to ask for clarification from the architect and approval from ownership prior to submittals and bidding.
The systems reviewed during the Build & Learn were:
Glazing

Because the project incorporates both window walls and curtain walls, the anchoring systems necessary are entirely different and timing of installation may affect other trades. Other factors that need to be determined prior to buyout are U value, which measures the insulating capacity of the glass, and the color of the glass. The location of the spandrels, which is the opaque glass that conceals structural building components, is also important to keep in mind in prevent these systems from being visible from the exterior of the building.

Brick

Before installing brick, air and weather barriers need to be considered to protect the building from the elements – both inside and out. Weather-resistant barriers shield the walls of a structure from water and air infiltration, along with moisture accumulation within the wall systems. Brick mock ups are also necessary to examine the color, length, grout, and more when no specifications are provided.

Siding

When considering siding systems, it is important to clarify the joint and reveal style with the architects in order to meet the design intent and performance. As with brick, air and weather barriers as well as furring strips need to be thought out prior to installing the siding panels. To reduce waste and the need to cut the panels, optimization of the panel size should be reviewed.

Punched Windows

The buyout process for punched windows applies only to the supply of the product, not the installation. General trades should install the windows once onsite. Primary factors in window choice not only include style and operation, but also the design wind pressure and whether or not tempered windows are necessary for the elevation.
Once complete, the project will feature 203 studio, one, and two bedroom apartment homes surrounding a private, landscaped courtyard with a swimming pool and a penthouse clubroom.
Looking to join a company that values professional development and invests in its associates? Click here for current opportunities!