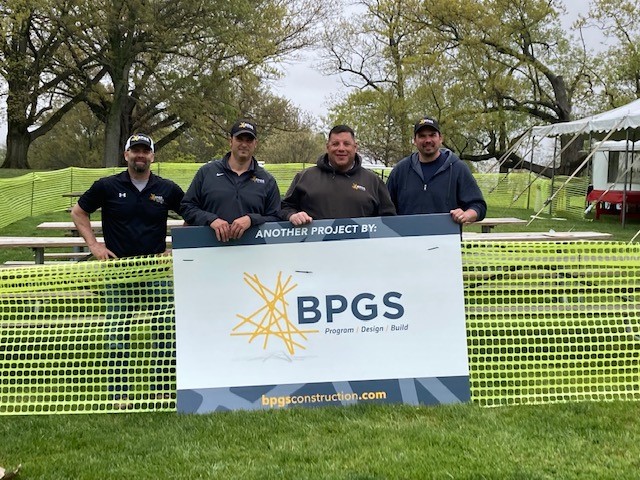 May 5, 2022 3:54 pm
After a 2-year hiatus due to Covid-19, the Wilmington Flower Market is back and ready to celebrate their 100 Year Anniversary!  A City tradition benefiting Delaware's Children since 1921, the Wilmington Flower Market features vendors, artisans, merchants and entertainment all for a great cause.
For the fourth time in a row, BPGS Construction has sponsored the annual event by donating the time and materials necessary to build the fence around the Market's Beer Garden. It involves measuring out the area, driving posts into the ground and then wrapping and zip tying the safety fence around all the posts.
Thank you to BPGS associates Joe Libucki, Vinnie Troise, Chris Terzaghi & Mike Brabson for volunteering to complete this project so the Flower Market has a triumphant return this year for its 100th anniversary! After completing the fence installation, the team recognized the need for help in other areas and stayed to help Light Action set up the performance stage in the Beer Garden tent as well.
As an all-volunteer fundraising organization, the Wilmington Flower Market is dedicated to improving the lives of Delaware's children. The money raised at the event is distributed a wide range of children's charities throughout the state of Delaware. To date, the Flower Market has awarded more than $4 million to Delaware's children.
This well-known tradition is held every Mother's Day weekend, Thursday and Friday 10am-8pm, Saturday 10am-7pm. Gather your friends and families this weekend and help them celebrate The 100th Wilmington Flower Market!