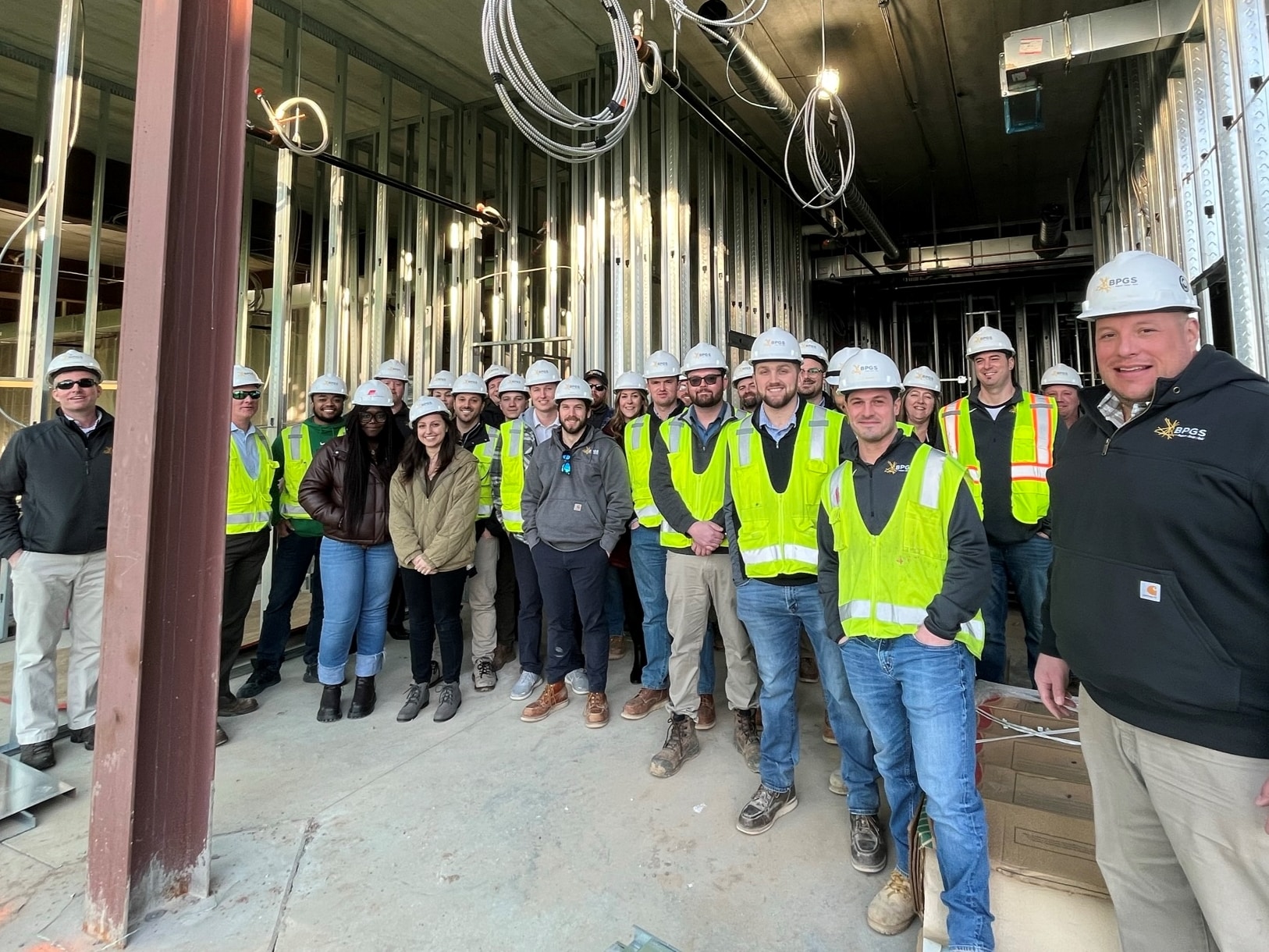 February 17, 2022 3:34 pm
At BPGS Construction, continuous learning is a crucial part of the company culture. BPGS is dedicated to empowering associates with knowledge to further their careers while also fostering an environment of comradery. Through the years, the team has developed strategic Build and Learn sessions in which all associates gather at a current job site for a lesson on unique aspects of the project or discussion on how an obstacle was overcome.
This month Project Manager Kyle Butler walked the team through the precast plank concrete technique being utilized on the Salvation Army Riverfront East project. Precast plank, also known as hollowcore, is often used in mid-rise buildings with larger spans or loadings. While precast plank requires considerable pre-construction coordination, installation is typically faster and more cost-effective than other concrete techniques.
In contrast to the post-tensioning technique we discussed at the Crosby Hill Build & Learn, the tendons in precast plank are prestressed and bonded to the concrete. Depending on the thickness of the plank, the tendons are anywhere from 6″ to 9″ apart and are visible from the ends of each plank. All penetrations in the precast including ceiling anchors need to be submitted for advanced review to maintain the structural integrity of the concrete. In some cases, subcontractors may need to shift their core layout in order to limit the number tendons that are cut in each plank. Any large penetrations greater than 1′ x 1′ will be cut by the manufacturer prior to delivery to the site and require additional steel to support the size of the opening. Once installed, the tongue and groove joints are grouted together and topped with 2″ of concrete so the planks act monolithically.
The precast plank technique is being utilized in the Adult Rehabilitation Center (ARC) building on the Salvation Army campus. Approximately 282 precast concrete planks were installed in the 40,000 SF, 2-story building! Once complete, the ARC will feature first-floor amenities, including a kitchen, dining room, recreation room, and chapel, and 2nd-floor dormitories, providing housing for 86 residents.
Looking to join a company that values professional development and invests in its associates? Click here for current opportunities!